Please visit the DDA Watch eBay Shop

Follow our Auction page:
Twitter - @DDAWAuctions
Facebook - @DDAWatchAuctions

New! DDA Watch END BSL car/window stickers: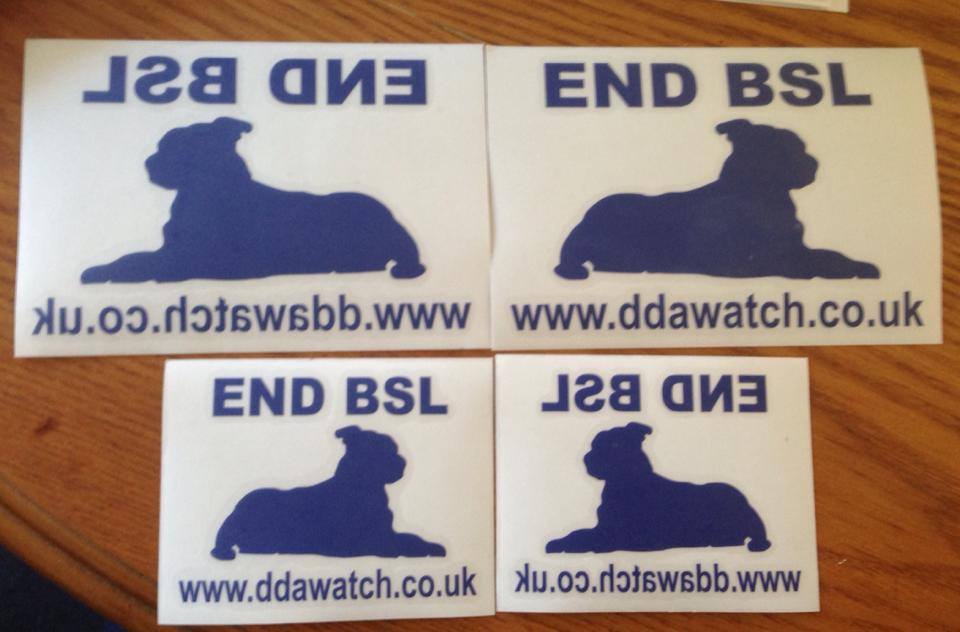 In a choice of standard or reverse cut.
Small size are 3.5" x 4.5" and cost £3.00
Large size are 4.5" x 6.5" and cost £5.00
UK 2nd class postage is 75p
Can be ordered via Paypal to: ddawatch@gmail.com Please include your address for delivery with your order.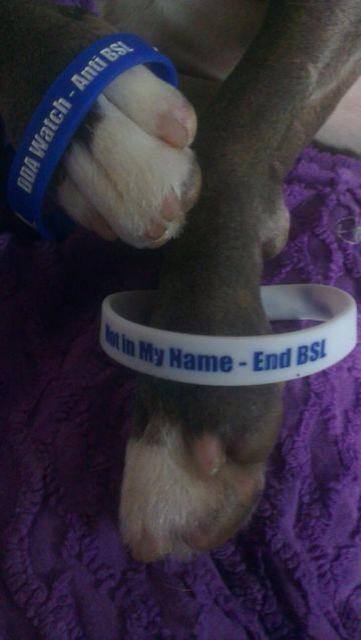 DDA Watch End BSL Wristbands - SPECIAL OFFER:
For a limited time only you can buy two wristbands (one white and one blue) for only £4.00 including UK postage.
To take advantage of this limited offer, please send your payment to:
ddawatch@gmail.com via Paypal
Please state Special Offer, and include your postal address.
Delivery: Dispatched within three working days and sent via Royal Mail 2nd class post.

Bring Me Home MP3:
Written and performed by the Maria Daines band. As many know, Maria is a DDA Watch volunteer and she helps man the phone lines. Part of her job means she listens to the tears of owners whose only wish is to bring their precious dogs home. This song was inspired by the heartbreak of trying to save a much loved companion dog held under BSL.
Following the successful reception of Bring Me Home, played in public for the first time at the London Anti BSL protest on 13th July, Maria has kindly agreed to release the song on MP3 for £1 per copy with all proceeds from all MP3 sales going directly to DDA Watch.
To order your copy please send payment of £1 via Paypal to ddawatch@gmail.com
Please mark clearly in the note "Bring me Home MP3" and we will email the song to you within 24 hours.
Follow either of the links below to listen to the song and thanks to everyone for supporting and sharing to help us raise funds for dogs in need -
http://soundclick.com/share.cfm?id=12416383

'Bring Me Home' on Soundcloud:
https://soundcloud.com/maria-daines/bring-me-home

Care has been taken to ensure that our information is correct. The information and advice given by DDA Watch is for general purposes and is intended for guidance only, it does not constitute legal advice. The information and opinions expressed should not be relied on or used as a substitute for legal advice, if you require details concerning your rights, legal advice or find yourself affected by legislation it is recommended that you seek professional legal advice. 
Information given is for England and Wales only. Legislation in Scotland and N.Ireland may differ.