The numbers are certainly in the thousands. We offer, here, remembrance to those who died unjustly. The stories on this page are a symbol for the thousands whose stories will never be told.


As told to DDA Watch and shared with the kind permission of those who loved and cared for him.

Goodbye to Rex:
There are many times when our volunteers have a good cry because of the distressing nature of the work of DDA Watch. Many times when we feel we can hardly bear to go on because the sadness never ceases. And every now and then we are too late to help save a precious life. Rex's story is one of those times. But this story isn't about us or how we feel; this story is about Rex's family and how they feel.
We were contacted some weeks ago by the mother of Rex's owner. This lovely lady felt tormented and in utter despair and anguish, for she and her family heard of DDA Watch a day or so too late... Too late to change the course of Rex's life. Too late to prevent the death of their wonderful dog.
We were not involved in this particular case whilst the family were going through their ordeal but we wish we had been. We wish we could have been there for Rex's owner and all those who loved him and we promised his family that we will ensure their story WILL be told and their lovely Staffie cross Rex, a loving, gentle dog will never be forgotten.
One of the messages we received from Rex's heartbroken family simply read 'Rex has been delivered home in a box'.
One of our volunteers contacted Rex's family and spoke with his Grandma and she told us stories of some of the happy times they had spent with Rex through the years that they were blessed to have him in their lives as he grew up to become their best four legged friend. Rex was his family's trusted companion, their funny, happy dog, their cheeky canine loved one who was no different to the other much loved members of the family and he was a big part of their world each and every day. Look at his picture, you can see a gentle dog, we can see a gentle dog, but, in the eyes of the law, Rex was considered to be simply a banned 'type' of dog, which, under breed specific legislation, means if found to be of 'type', dogs like Rex must be destroyed or restricted via the exemption scheme following a court order. That is how unfair and crazy BSL really is.
Maybe Rex's legs were too long for him to be considered a 'legal' breed; maybe his face was too wide, maybe his body fitted some flawed and unscientific ruling which deemed him not worthy of being able to live a normal life. Maybe a tape measure was used to fit this dog into some unfathomable and pointless category which caused him and his family utterly impossible problems and ultimately Rex's early death. Sadly, 'maybe' is the reality for many.
Yet, Rex was just like millions of family pet dogs up and down the country. He was needed, he was loved and wanted and he had a good home. He was always there for his family, snuggled in and around those he loved and close by at all times, he was part of everything that makes a family feel that they belong together and brought only joy and happiness to those he loved. Rex's human sister was born in 2013 and Rex was delighted when she arrived and he would lie on the floor by the Moses basket and watch over her. Like all pet dogs, Rex became the centre of all the fun and the good times within the family home, he was the beating heart of the precious memories that dog loving families hold so dear. And, being a bull breed, Rex seemed to be smiling most of the time because he was happy and he knew he was cherished.
Christmas was five year old Rex's favourite time of year when visitors arrived and he was part of all the excitement and fun. His Nan made him a special Christmas dinner of his own and his family always bought him presents. Rex made everyone laugh as they watched him lying under the Christmas tree playing with the baubles. He also liked picking up stones in the garden and he would try to carry a specially chosen stone into the house. If he was told to leave his stone outside he would do so, waiting patiently until he was called back indoors and then he would come happily wagging his tail, but not forgetting to pick up his stone first! Rex also loved swimming and playing with his best doggy friend Bel and he always wanted a cuddle and to sit on his Mum and Dad's lap and sleep on their bed. Rex's family asked the police dog legislation officer whether they could take Rex's Christmas presents to him or could the officer take the gifts to Rex on their behalf, but this was denied.
We will not go into the specific and upsetting details that led to Rex being killed under cruel BSL as a complaint is underway. It is too late to reverse the tragic outcome for Rex but it is hoped an investigation will help save another innocent dog from the same fate.
BSL is a law peddled by politicians and the government; it is fuelled by ignorance and continued by those who lack education, common sense, reason or compassion. It is also a law that can be swept under the carpet and the heartbreaking consequences written off under the fear mongering media machine which often demonises dogs caught up in this failed legislative experiment which has not increased public safety since 1991. Everyone with decent moral values understands and accepts that 'looking' a certain way does not make a dog dangerous.
Rex was seized under BSL on 11th December 2014. His Christmas presents were all wrapped up waiting for him but he never came home for them. On 19th March 2015, Rex's ashes were returned to his loved ones.
Rex did not have to die - just as many other dogs do not have to die. His family are blameless but they are broken by their loss and they will probably never come to terms with what happened to Rex and like many other families who have been torn apart by BSL, the luxury of hindsight is a deep and painful wound and tears are shed over and over.
Rex's family wish with all their hearts that things had been different. When he was seized by the police and assessed for potentially being of banned breed 'type' Rex was immediately separated from his family and held apart from them for many weeks. He had done nothing wrong, he had never hurt anyone but Rex never saw his family again and they will never know how or where he died.
We live in hope that one day there will be no more stories like Rex's story in our memorial album. No more names to add to the long list of dogs we remember. No more beautiful pictures that make everyone weep. No more wagging tails stilled forever by a law that has no mercy. No more families wracked by guilt and despair.
We hope for common sense to prevail and we hope one day those that enforce this law will speak up alongside us and help to end this madness, this cruelty, this outrageous and perverse atrocity and this shameful waste of life.
Never forget him.
His name was Rex.
Remember him, cry for him and then help to end BSL for Rex and all those beloved canine family members like him.
Rex was just an ordinary dog living his ordinary life with his ordinary loving family.
Rest in peace sweet boy. You are in many hearts now and you will be ever loved xxxx
This story was written with the permission and approval of Rex's family.

Goodbye to Pickles:
We received this sad note along with the picture of a sweet dog named Pickles and we promised we would make sure Pickles is never forgotten.
Breed Specific Legislation continues to do its worst and dogs like this little one, who never put a paw wrong, are the unseen and unheard victims of a cruel and inherently flawed and failed law - and time and time again dogs like Pickles are killed for no other reason than the way they look. Pickles died as he was deemed to be a banned 'type' and was an unclaimed stray dog with no owner to fight for him.
'Sorry to send you sad news but we lost another type dog today, the first for a long time. He was so lovely. He was only about a year old and was so terribly scared when he first came in. If you touched him he wet himself, literally, his whole bladder would empty on your feet. A week later he came over to see me wagging his tail; giving me kisses and cuddles and I put him in the van, took him to the vet and had him killed. Dear Pickles, I'm in bits.'
Rest in Peace sweet boy. One day we will end this wicked law for each and every one of you who have so tragically been killed for looking a certain way. You deserved to live your life and be loved.
Run free at the Rainbow Bridge. In our hearts always xxxx

Goodbye to Rocky:
Three year old Rocky was asleep in bed with his owner when police arrived in March 2014 to seize him under BSL. The police dog legislation officer said they did not feel Rocky was dangerous and allowed his owners to walk him to the van.
Rocky had passed all the assessments with flying colours. However, in May 2014 Rocky's owners were shocked when they attended court and Rocky was given a destruction order, an appeal was lodged but discontinued as Rocky was not allowed to return to his original home due to BSL and the alternative accommodation found would not allow an exempted dog in their property.
Rocky had lived happily with both children and another dog, he had never put a paw wrong but he tragically lost his life due to BSL. Rocky's owners have been left heartbroken. 
Sleep peacefully Rocky. You will always be remembered by those who love and miss you xx

Tyson - Police Dog:

Lennox - Remembered July 2014:

Exempted Dogs - Merseyside: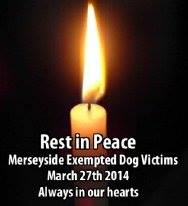 Dear anonymous dog:

We cannot use your name as your story is confidential. You lived in the North Eastern region of the UK and one day you were seen and taken as a prohibited type of dog, assessed, confirmed as type and held. You had a name and you were loved by someone.

We found out today that because you were of type and because your owner's situation had changed dramatically, you were not ab...le to be put through exemption in time as ordered by the court, an extension had been obtained and this had expired when we were contacted for help. Time had run out and you had tragically lost your life. We wish you had been able to be saved.

We were told you were a wonderful dog, you were friendly, happy, neutered and microchipped, someone cared a lot for you, and no doubt you were part of a loving family. It was not your fault that you were placed in a no-win situation, this sadly, is what BSL can do.

The officer dealing with your case had done his very best to save you, he feels as bad as we do, that nothing could be done despite great efforts and a life-line of keepership offered, heartbreakingly too late.

You lost your life through no fault of your own.

Rest in peace now little one. You are one of many that we will never forget and you will stay in our hearts forever. The distressing part of all of this is that you did nothing wrong, you must have waited and waited and wondered why nobody came...

You will be remembered always and we hang on to the comfort of knowing that you were loved very much.

Sleep well little one.

Heartbroken DDA Watch volunteers xx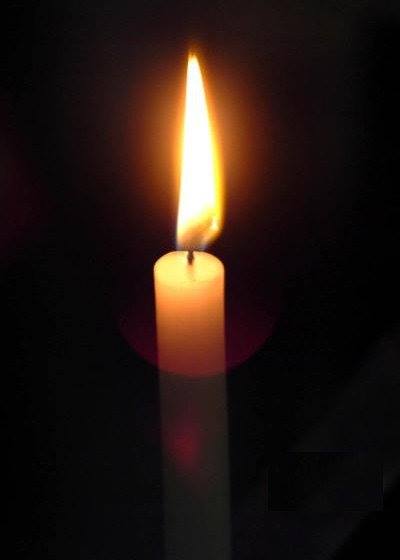 Sapphire:
'Sapphire was put to sleep as she was a stray 'type' dog with no owner to go to court for her. She had been passed from pillar to post in her short life, having at least three homes that we found out about including a spell on a travellers' site and then given to someone who kept her shut in a shed. Even so, she wagged her tail and expected everyone to be her friend. She was killed because of BSL.'

Permission given to DDA Watch to share Sapphire's picture and words from a caring dog warden.

Rest in peace little one xx

Benji:
 Benji had never done anything wrong. He was just a stray dog like many others. Those who had come into contact with him said he was gentle and friendly. He would have made a wonderful companion pet to the rescuer who tried so hard to save him.
Benji deserved a life, a future, a family, he deserved to be taken care of, to have enough to eat, to have a nice cosy bed to lie in, and he deserved a chance.
Benji didn't ask for much in life and he received so little kindness save for a few people who desperately wanted him to have the chance to become a healthy, happy dog with a home of his own.
Now he is gone forever.
Killed by BSL. Benji will never know what it would be like to be loved unconditionally and to enjoy the fun of being cared for, to play ball, to be cherished and be part of his own family.
Rest in peace lovely lad. You deserved so much better. Run free now and make friends at the bridge. You will never be forgotten and we wish you had made it to those green pastures and the life ahead of you that was just out of reach by one day...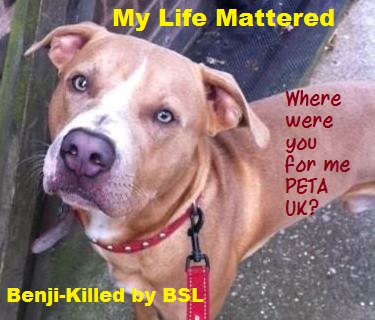 Fudge:
Puppy Fudge was seized from her family home by the police in Liverpool on March 22nd 2011; one night there was a knock on the door as they came for Fudge, there was confusion, distress, panic, a piece of paper was signed and she was taken away under BSL and her life ended an hour later.

Fudge was just five months of age on the night she was killed, she was a much loved family member, full of puppy fun and love for everyone she met, one night she was gone, with her toys still scattered around from playing, Fudge was never seen alive again by her family.

Fudge's life was stolen, but her memory lives on forever. Running Free at the Rainbow Bridge xxxx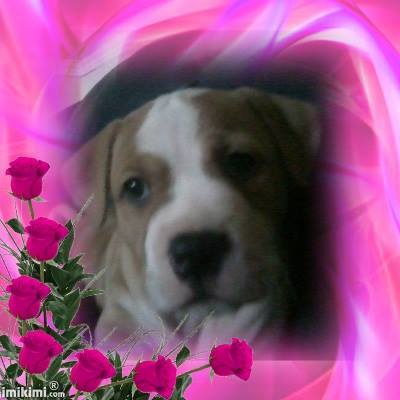 Fudge:
Always remembered - a very special young family dog named Fudge who was much loved and cared for and who will always be missed by his mum and never forgotten by those who tried hard to save him.

Fudge was seized under BSL in Merseyside in May 2012 and he was held for many months and tragically his life ended whilst held, on 22nd April 2013. The picture of Fudge was painted by one of our supporters... and it was given to Fudge's mum in memory of her gentle dog.

Rest in peace sweet boy, you did not deserve to die. You never put a paw wrong. We will continue to campaign to end BSL in your memory and in the memory of all those taken by this inherently flawed law.

We will speak up for you. You were loved. xx

Some words from Fudge's mum:

I LOVE AND MISS YOU SO VERY VERY MUCH FUDGE THIS SHOULD NEVER OF HAPPENED AND I AM SO SORRY MY LOVELY COMPANION. X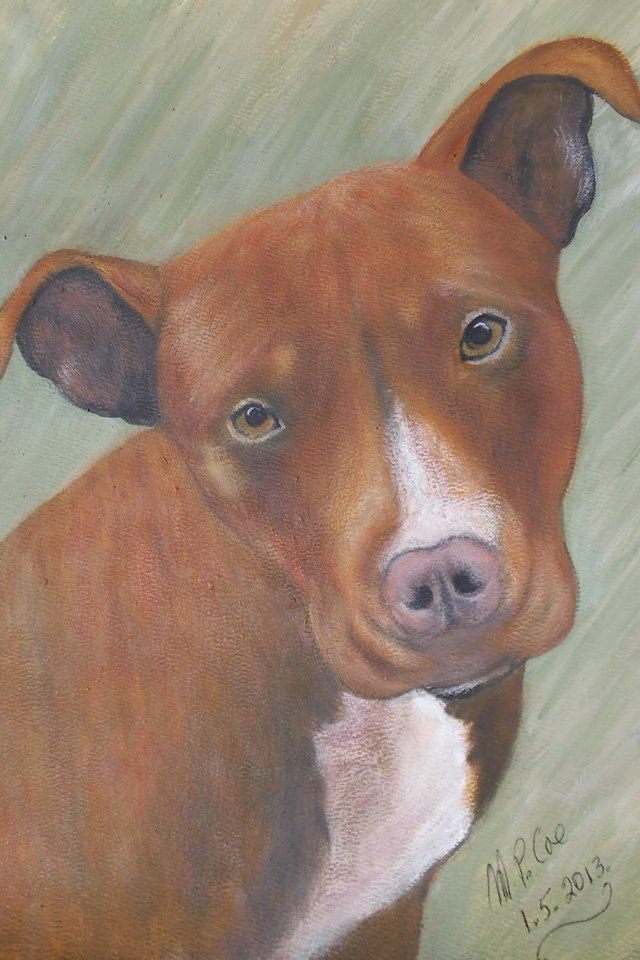 Lynch:
Lynch was a much loved family pet dog who was seized under BSL on August 1st – he was removed from his home on a catchpole, seized as an alleged pit bull type, he hadn't put a paw wrong. In the heat of the moment and threatened with prosecution and conviction of having an illegal dog, his young mum signed a piece of paper, a document known as a disclaimer, she was upset and confused. Lynch was ta...ken away and tragically his life was taken from him the same day.
Lynch is greatly missed by his family who loved and cared for him for four and a half years. Lynch was a happy, friendly dog and his favourite thing was footballs! He was very playful and loving and was very close to his owner's young son. Lynch will never be forgotten. Rest in peace sweet boy. You did not deserve to die because of the way you looked xx

Our thanks to Janice Tyrrell for creating this lovely memorial picture for Lynch and his family.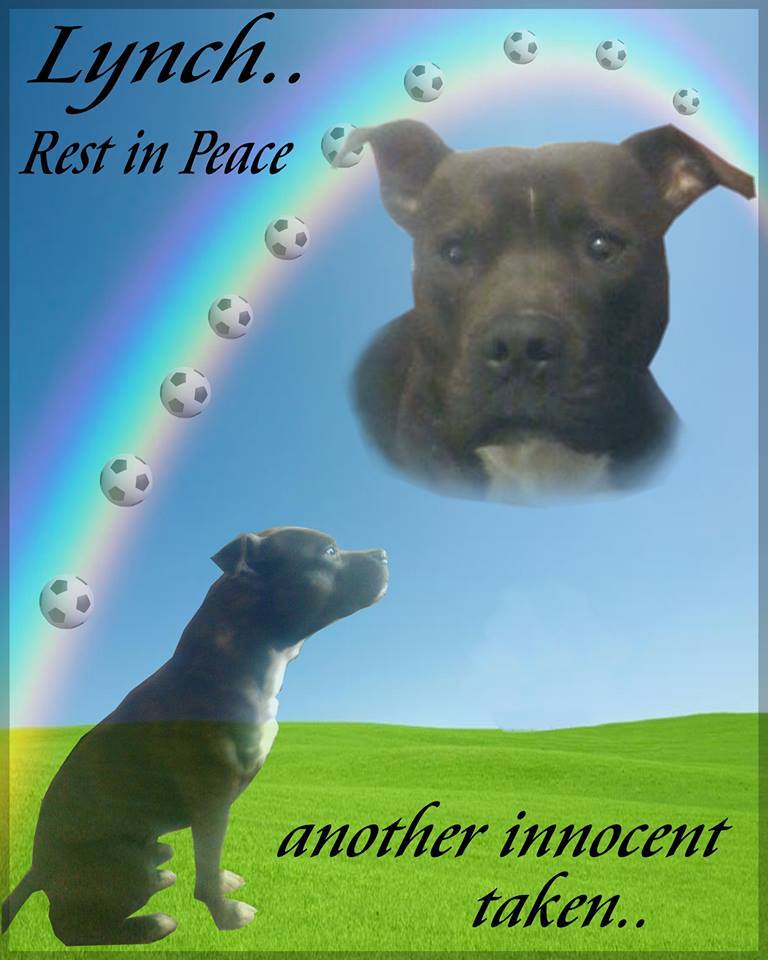 Samson:

He's a staffordshire bull terrier mix who ended up in a rescue centre when he was found last week wandering alone in a London park. A very friendly, well behaved, sociable and gentle dog who enjoyed the company of humans and other dogs. He was killed today because a police officer thought he fitted the physical description of pit bull type. The Dangerous Dogs Act has to be repealed. Anyone with half a brain cell will tell you the way a dog looks doesn't determine whether they have a dangerous temperament.

Samson was the opposite of dangerous but he still lost his life.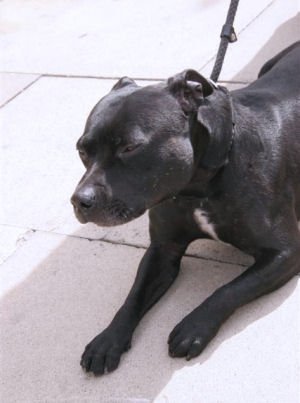 Lennox is the dog who brought BSL to the attention of thousands of people, many of whom did not know until Lennox's name and story was known world wide, the cruelty taking place towards dogs that look a certain way. Because of the suffering and long term incarceration of Lennox, his pitiful story shone a light on  the thousands of nameless canine victims of BSL whose sad stories also came to light alongside Lennox.
Since Lennox was killed a year ago today, his name is still on thousands of lips. His presence is felt in thousands of hearts and his memory is part of everything we do in our efforts to end breed specific legislation.
By killing Lennox, the powers that be maybe thought they would silence those that care. By killing Lennox maybe they thought we would go quietly away. By killing Lennox they thought that we would forget him. They were wrong. 
Lennox can never be forgotten and his plight and suffering will always be remembered and will inspire us to help other dogs who are equally innocent of committing any crime. The struggle to bring down the wall of BSL is  a long, heartbreaking and difficult journey but step by step and brick by brick we will remove the barriers of ignorance and prejudice and one day we will ensure that all dogs, no matter how they look, are valued and cared about without threat of a BSL prison sentence hanging over their precious heads. 
When a law is wrong it must be challenged, opposed and  changed. And so we honour Lennox today and we remember him and the pain he and his family endured whilst they were separated from each other.
We will never forget and we will never stop trying to end BSL because it is the right thing to do in memory of Lennox and all the other dogs gone before and after him.
Rest in peace Lennox. We ALL remember you and you will live on in our hearts. You did not deserve to die. xxxx

Cadbury:
Cadbury, an unclaimed stray dog, was put to sleep on October 11th 2013 because of BSL.
While some of the other unclaimed strays were given their vaccinations in order for them to move closer to finding new homes, sadly Cadbury wasn't given the same chance and instead he received a lethal injection due to the UK's inherently flawed and failed Dangerous Dogs Act, which in Cadbury's case (and sadly ...many others) meant he was considered to be a banned breed 'type' and therefore denied the chance of a happy future.
Cadbury could have made someone a wonderful friend and companion but instead he was killed because of the way he looked.
Rest in peace sweet lad, you did not deserve to die and you will not be forgotten xx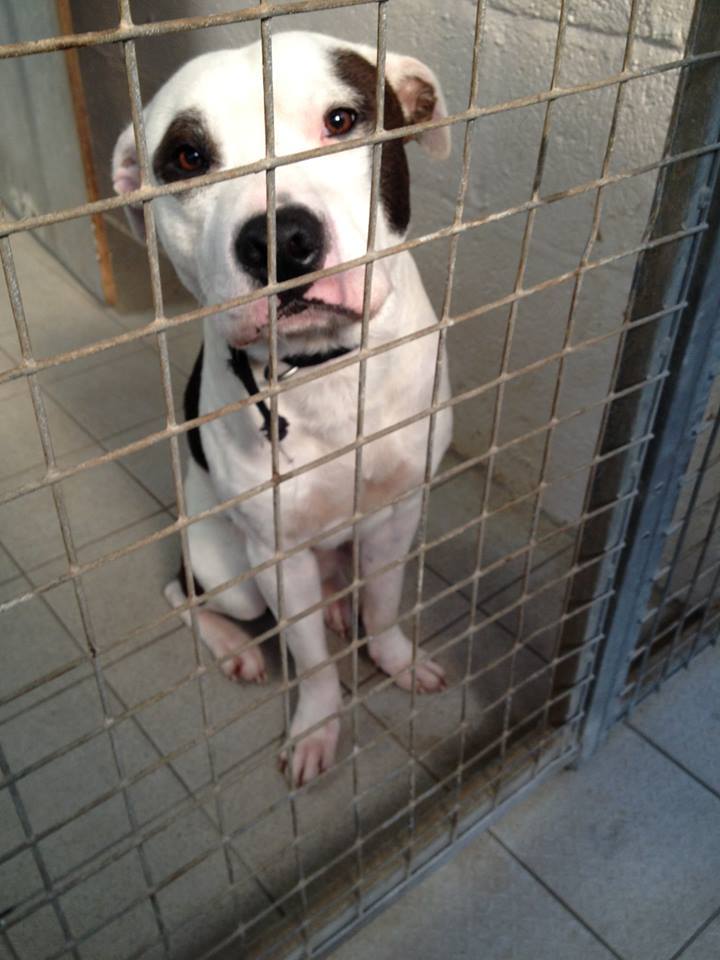 Sam:



Sam was killed in error while in the care of the Metropolitan Police

Sam was seized on 5th May 2009 and taken to police kennels where a leading behaviourist assessed him as "friendly and complaint". On 29th September, in Isleworth Crown Court, Sam's hopeful owner, Melanie Hawes, was told that the Metropolitan Police had destroyed her dog by mistake five weeks earlier.

Chocking back the tears Sam's owner Melanie said, "I can't believe what has happened, that our dog had died due to some kind of paperwork mistake and I have to break the news now to my 11 year old daughter when she comes home from school, she loves Sam so much and has been waiting for him to come home."

Sam was a much loved family member. He was killed on 26th August 2009.






The Unknown Dogs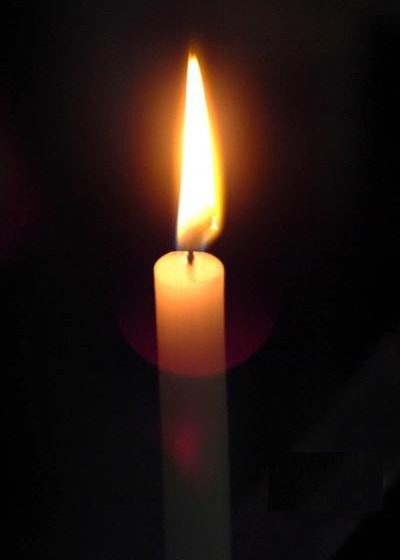 In 2008 six stray dogs were destroyed as 'type' by the Hackney Borough Council in London. Information obtained by DDAWatch under the Freedom of Information Act.





Otis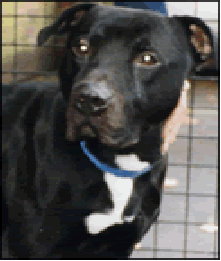 Henry Bates (Harry) had his pet dog 'Otis' seized from the inside of his car by the Metropolitan Police on December 4th 1991, following a routine stop and check in the Blackwall Tunnel in East London. Otis was asleep in the car when one officer declared he looked like a 'pit bull' and seized him. Harry was later charged with having a dog unmuzzled and unleashed in a 'public place' contrary to Section One of the Dangerous Dogs Act 1991.

Following a Magistrates Court hearing in July 1992, Harry was found guilty and Otis, who had never harmed anyone or given cause for concern, was sentenced to death by the Court. An Appeal was lodged and the legal process, centred on what did and did not constitute a 'public place' continued. Later a legal ruling by Justice Waller and Lord Justice Rose on February 25th 1993 stated that the interior of a private car on a public highway is, for the purposes of the Act, a public place.

Otis was held at a secret location while awaiting the Court's judgement. Owner Harry was allowed one brief reunion with his dog over a two and a half year period. At a cost charged to the defendant, Otis was transported from his secret location to a cage at the rear of a Police Station, Harry was able to spend 30 minutes with Otis inside the cage, with the authorities watching and filming from the outside

Following the High Court ruling, valuable new evidence had come to light. Otis had now been examined by leading breed identification experts, who confirmed Otis had more characteristics of a Great Dane than any other breed of dog and therefore not subject to Section One of the DDA, new grounds to free Otis were attempted but the legal team were never to be given the opportunity to establish his breed or type in a Court of Law.

On 29th June 1994 an application was heard for Judicial Review, at the Royal Courts of Justice, Lord Justice McCowan and Mr. Justice Buxton ruled that it was not necessary that the Prosecution provide any evidence of breed. Under the DDA the burden of proof rests with the defendant and no more than an allegation is needed.

The effect of this decision made the DDA unprecedented in English law by reversing the presumption of innocence.

An application to hear the case before the European Court of Human Rights was lodged with the European Commission in January 1995. On 16th January 1996, the European Commission ruled that the Otis case was inadmissible; they decided by a majority decision that the DDA was not a human rights violation.

Despite widespread public outcry and offers of sanctuary from abroad Otis was killed on 8th February 1996 ending four years solitary confinement and legal arguments. His body was returned to his owner, Harry Bates, in a plastic bag inside a cardboard box. A post-mortem revealed that Otis had suffered:
All nails on four feet extremely worn

The signs of old lying sores on both hocks.

Weight gain 34kg dead weight.

Two upper incisors broken.

All front teeth worn so that the pulp was exposed.

Severe wearing of the lingual aspect particularly of the upper right canine.

A one third deposit of calculus on most of the teeth (more than one would expect for a 6 year old dog).

Enlarged umbilical hernia.

Otis' owner, Harry Bates, was left homeless and jobless with legal debts outstanding.
His had endured severe mental strain and emotional stress lasting four years and had also incurred substantial legal cost, being criminalised in an effort to save his dog.

Acknowledgement for Otis' story to Endangered Dogs Defence & Rescue




Lola




Lola, a three year old dog was brought into the safety of a rescue sanctuary by an RSPCA Inspector. She had been stabbed several times and her owner was to be prosecuted for the offences against her. Lola was treated at the vets, receiving stitches and medication, her owner signed her over to the sanctuary and she was under medication prior to re-homing when the possibility of her looking like a banned pit bull type was mentioned. Lola loved people and company, she would sit in her kennel and cry a lot said a member of staff who knew here and washed her wounds out. On Thursday 21st February 2008, Lola was led from her kennel to a room and lost her life, as a 'pit bull type'.





The Unknown Dogs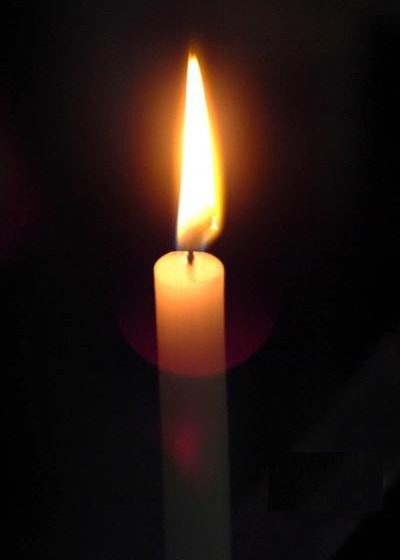 In 2008 twenty stray dogs were destroyed as 'type' by the London Borough of Brent. Information obtained by DDAWatch under the Freedom of Information Act.




Oscar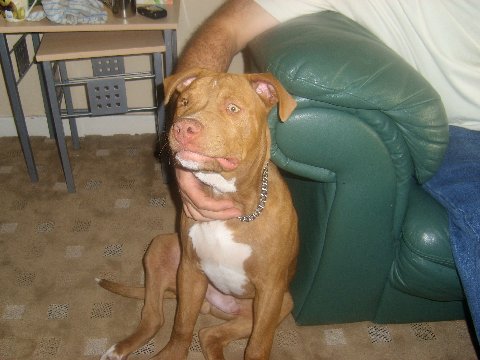 Jeanette Hardwick and her son, Stephen, rescued Oscar at a young age. Described by his owners as, "the least dangerous dog you could ever have met". Jeanette explained, "Apart from his fantastic temperament he also had a bone deformity, which left him with a limp and undergoing regular treatment. My son has cystic fibrosis and when he first saw Oscar as a young pup he knew he had to save him."

Oscar had no incidents of aggression and was of friendly, stable temperament. Despite having written statements from her vet stating that he was not a pit bull Oscar was seized and taken by Merseyside police in October 2007. Ms Hardwick received from Merseyside police a succession of assurances regarding Oscar's imminent release and care whilst in police care (Oscar required ongoing veterinary treatment which Ms Hardwick was promised would be undertaken by police vets) none of these assurances were fulfilled. Campaigners from Deed Not Breed and The Bullbreed Advisory Service, who subsequently became involved in Oscar's case, were advised on several occasions by Merseyside police that Oscar had received his treatment, was well cared for and would soon have his case heard in court.

Almost two months after being seized Jeanette Hardwick was informed that Oscar had been destroyed by mistake after Merseyside Police logged him erroneously as a stray, ownerless dog. Although Merseyside Police have acknowledged the error and offered apologies it has never been established when Oscar died or whether he had received the treatment that he needed. His body or ashes have never been returned to his owners. Ms. Hardwick described her son as "destroyed".






The Unknown Dogs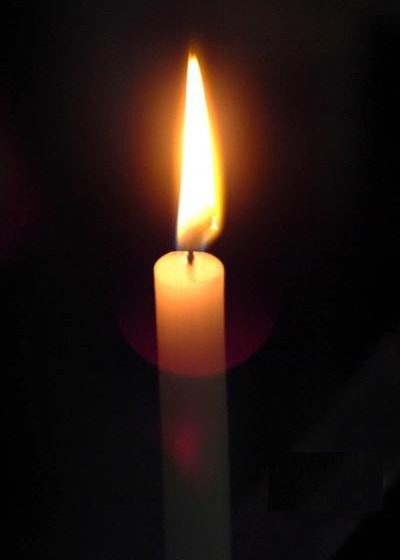 In March 2007 four Staffordshire Bull Terrier puppies of under eight weeks of age died from parvo virus shortly after being returned to their owner by Merseyside police. The pups had been seized, along with their parents, as suspected pit bull types but returned when canine ID experts confirmed that they were not of 'type' . The pups had been too young prior to seizure to vaccinate against the deadly virus. During the same period a further four dogs died of the virus while in the care of Merseyside police and before their cases came to court.





Annie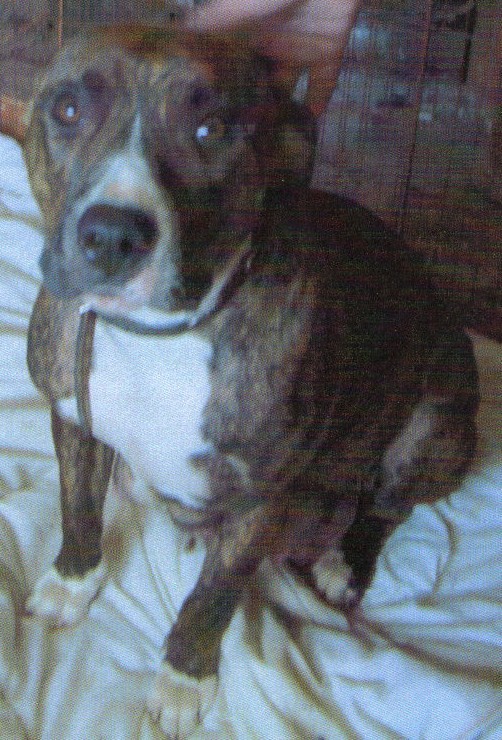 In December 2006 Annie went to live with a young family in the south of England. She was a delight to her family, happy to be fussed by everyone and adored all she met. Her family felt honored to own such a dog with such an amazing temperament. For the next 18 months Annie lived happily with her family, without a care in the world but all that ended in April 2008. It was during a scheduled veterinary visit, to ensure the welfare of her dogs, that Annie's and her owners world turned upsidedown.

On 15th April 2008 the vet stated to Annie's owner that Annie was a pit bull and that she had to contact the police. Scared and confused, she made contact with the local police who came and took photographs of Annie and signed an agreement stating she would not re home any of the dogs . Later that same evening Annie's owner had a phone call from a police "breed id expert" Annie's owner states he told her that he didn't hold out much hope for Annie.

On 20th April 2008 the breed ID expert visited Annie at her home. Annie's owner said she was told that Annie was a "time bomb waiting to go off" and that if she did not comply with him he would seize Annie, prosecute her owner and Annie would be killed. Faced with the option of Annie dying with strangers Annie's owner asked if she could take her to the vets herself and permission was given.

Annie died at 1pm on 20th April 2008 having never shown any sign of aggression.





Tia and Puppies




Tia and her two puppies aged approximately 2 weeks, came into a sanctuary having been rescued. Tia was medically treated and later assessed, as a lovely friendly dog she was put up for adoption, her two puppies went into a foster home and received lots of TLC. A short while later, a vet, who had apparently been on a course to identify pit bull types, expressed an opinion that Tia may have pit bull terrier in her. In March 2008 Tia was led into a room and lost her life. Tia's two puppies were taken out of their foster home and also put to death. The staff cried on as all lost their lives under the law. One member of staff had to take time off to try and come to terms with the loss of both puppies and their mum. .





The Unknown Dogs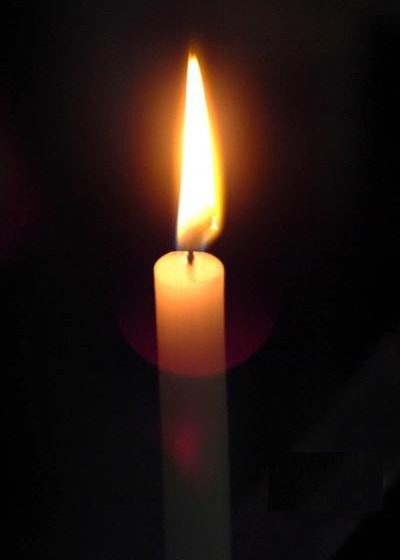 Nineteen seized puppies under the age of eight weeks died whilst in the care of the Metropolitan police in 2007. Their breed was never determined. The causes of their deaths have never been explained.




Red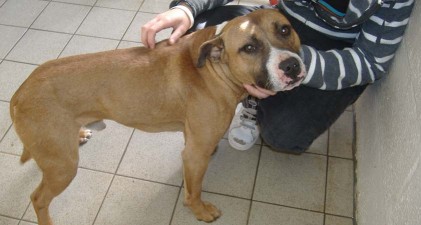 Red was found stray and ownerless in January 2008 by South Gloucestershire Council. The council-employed dog warden, Celine Jacobs, said of him "This dog was only about one year old, he was highly social with other dogs, even when a Jack Russell tried to attack him, he showed no aggression. I could touch him all over and kiss his face and cuddle him with no hint of aggression, he was well mannered and well behaved, probably the nicest dog in the kennels at the time."

Being ownerless when a breed identification expert considered Red to match the criteria of a pit bull type dog his destruction became a legal necessity despite his evident good nature.

"When we went in to the vets his tail was still wagging and he sat there licking my face and licking the tears of my face, he didn't know I was going to have him killed. I held him all the time and he slipped away in my arms quietly, I held him even when he was dead and sobbed my heart out." Said Ms. Jacobs, who afterwards described feeling "empty", "broken" and "beaten" by the duty imposed on her.

Later she said, "Red was a lovely young dog and as far as I could see there was no aggression in him towards people or other dogs. I became a dog warden to save dogs lives not to kill dogs for no other reason than the shape of their bodies."





The Unknown Dogs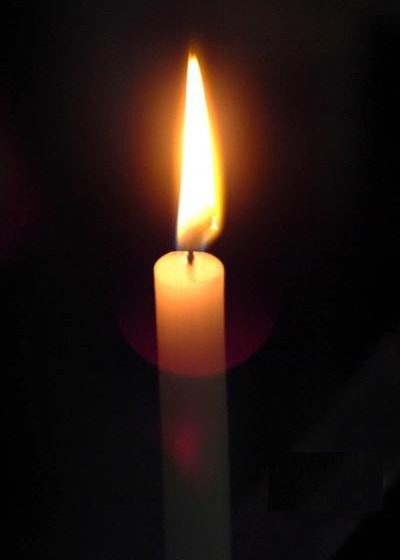 Requests for information made by DDAWatch under the Freedom of Information Act revealed that between April 2007 and May 2008 sixty dogs in the Metropolitan police care died from unexplained causes.




Missey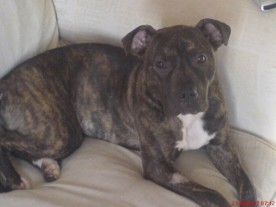 Missey had no incidents of aggression and no complaints were ever lodged against her. She was seized in 2007 after her owners, Donna and Mark Tipple, approached Merseyside Police for advice.

Missey spent three months in kennels at a secret location during which no contact with her owners was permitted. Subsequent to assessments which found the dog to be of a friendly, stable temperament, the courts ruled that Missey posed no danger to the public and she was entered into the Index of Exempted Dogs and returned to Donna and Mark.

As soon as the family were reunited it became apparent that Missey was suffering deep trauma and psychological damage from her time in police care. She had developed extreme anxieties which worsened despite intervention from veterinary and behavioural experts. Her anxiety "ruled her life", according to the Tipples, and worsened until they felt compelled to end her suffering. Missey was euthanized on Sunday 17th February 2008.

"Letting her go was the hardest thing we have ever done but we couldn't watch her suffer any more," said Donna while Mark added "We have all been punished because of how she looks and Missey paid the biggest price of all."





The Unknown Dogs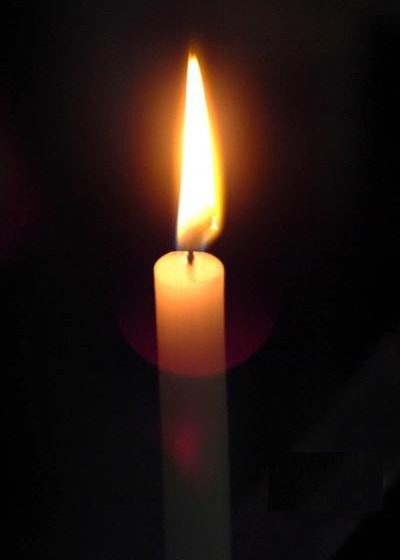 In 2008 twenty-one stray dogs were destroyed as 'type' by the London Borough of Croydon. Information obtained by DDAWatch under the Freedom of Information Act.





Tyler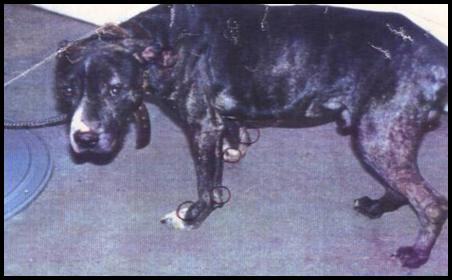 Three year old crossbred dog 'Tyler' was forcibly removed from his home at 7.30am on December 20th 1991 amidst scenes of great distress. When owner Debbie answered her door, dressed in her nightgown, there were at least 5 arresting officers, two wearing protective clothing and carrying catch poles. Tyler was dragged from the bed where he had been sleeping upstairs with a 6 year old child, his neck bleeding as the catch poles tightened in the struggle. When his owner began to obstruct the arrest of her dog she was restrained, forcibly led away down the street in her nightgown and arrested, her dog was driven away in the back of a van.

A canine helpline volunteer described the later "upsetting" home visit, "I remember staring at the large bloody clumps of her hair on the mantelpiece, pulled out in the struggle on the morning her dog was seized."

Like all dogs seized under section one of the Act, Tyler was held in kennels at a secret location. Owner contact was denied. His treatment during his confinement was later described in court as "terrible". Tyler had never harmed anyone or anything, he had done no wrong.

Behavioural assessment videos were shown to the court in which Tyler remained calm and docile in the face of other dogs, aggressive dogs, sheep, imitation cats and confrontational strangers. At no time did Tyler react or show signs of being "dangerous". Detailed and exhaustive evidence of Tyler's stable good nature was given by behavioural expert Dr. Roger Mugford and Staffordshire Bull Terrier experts Mike Homan and Vic Pounds. During the lengthy hearing it was revealed that Tyler had sustained several injuries whilst in police care.
untreated lacerations from the catchpole used to remove him from his family home

two holes inside his mouth

a deep puncture wound to his shoulder

flesh missing from a hind leg with other small flesh wounds

pressure sores

Tyler was described as visibly malnourished and bloated, tender around his abdomen.
Mr. Pounds, in his evidence to court, stated that Tyler had wounds on his right shoulder which had been treated and on his left pasterns there was a round and fairly deep wound about one inch in diameter which he thought had been inflicted fairly recently, the wounds looked sore and was still open. He said: "I have never seen a dog in worse condition". In his opinion Tyler had been "brutalised" and was in no fit condition to be thoroughly examined.

Despite all the evidence, the Judges found his owner guilty of owning an unregistered 'pit bull type' and ordered Tyler to be put to death in seven days. Owner Debbie, overcome by the outcome, began to cry and beg the court to spare her dog, as the Judge left the room.

Supporters present at the hearing described the atmosphere; "many people in the room were devastated when the judge said Tyler had to die – men and women alike had tears in their eyes, even some of the observers not connected with the case. To hear a woman begging and pleading for her dogs life, completely broken with grief, calling out to anyone who could hear, is the most distressing thing I have witnessed in this situation" said one observer.

Debbie went home that day to her young son who was waiting with Tyler's Christmas present, still wrapped up, certain of his friends return.

Tyler was destroyed on 9th March 1993 after 14 months of solitary confinement. Shortly after Tyler body was returned in a "cold and dripping" black plastic rubbish bag.
Acknowledgement for Tyler's story to Endangered Dogs Defence & Rescue



Zeus




Zeus, an adult dog of unknown breed was seized by Manchester police in 2007. He died in police care before his breed was determined. The cause of his death has never been explained.





Stella




In May 2005 Stella was surrendered to a national animal re-homing charity by her owner. Stella was assessed by the charity, who found her to be of friendly and stable temperament, and was spayed, vaccinated and microchipped. Whilst the charity sought the right home for Stella she remained in their care and showed no aggression and gave no cause for concern.

It was during this time that a police dog handler expressed his opinion that Stella was a pit bull 'type' and must be destroyed. Staff at the shelter tried to raise funds to send Stella to a sanctuary overseas but were informed (erroneously) they were not permitted to export or rehome the dog.

Mary, a staff member who used to care for Stella, writes:
"Stella was a happy, very friendly, 3 year old brindle. She could be a little nervous at times, but loved a fuss and a cuddle and lying on your lap and having her tummy rubbed, and she liked playing ball. She loved going for her walks, and was a great favourite with myself and with several of the staff, including two of our regular dog volunteer walkers. We all shed a tear for her, and she is still in my thoughts."

Stella was led from her kennel on Tuesday 13th December 2005 and destroyed.

Acknowledgement for Stella's story to Endangered Dogs Defence & Rescue





The Unknown Dogs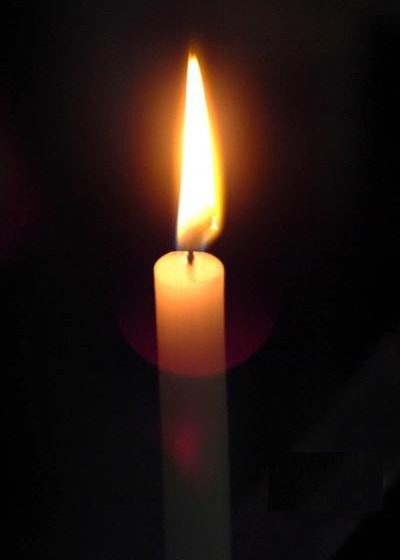 In 2008 nine stray dogs were destroyed as 'type' by the London Borough of Hillingdon. Information obtained by DDAWatch under the Freedom of Information Act.





Cassie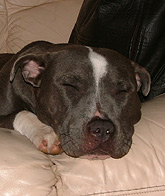 Cassie was bought as a puppy in May 2005. No complaints were ever made about her and she had no incidents of aggression. Her owners, providing responsible stewardship, had Cassie microchipped which allowed her to be traced and returned to them when she was stolen from a vehicle and, three months later, found stray.

On 6th February 2007 Cassie's owners approached police for advice following requests in the media from Merseyside police. Cassie owner said "They mentioned many different breeds as common names for "pit bull types" which seemed to cover every bull breed and many crosses. The report said you had to call the police for information. I couldn't believe what I had heard. I was sure they had it wrong. My dog was most defiantly not a "dangerous dog" She was Cassie, a soppy friendly dog who loved nothing more than a cuddle! I was sure this was wrong but called the police. That's what you do isn't it? You are responsible law abiding people and you call when the police tell you to. I just wanted information."

They told me they would look at her to see if they thought she looked like a pit bull type according to a set of vague guidelines. If they thought she did then they would take her away. They told me if I refused to sign her over to be killed they would seize her and put her in kennels while they took me to court. It didn't matter whether Cassie was a fantastic family dog who had never hurt anyone. If she looked * wrong * and I didn't sign her over for them to kill her, then they would take her from me.

That evening, while the family were away from home, they were contacted on by police dog section officer who told them he was outside of their house and would return with the intention to seize their dog. "They hadn't even seen my dog! How could they deem her to be anything without seeing her?" her owners asked, "She wasn't dangerous! I couldn't understand what was happening, it was like a bad dream this couldn't really be happening. I told him again, that he would not take my dog at anytime and he said he would be back the next day and Cassie 'would be gone'.

Overnight my wife and I discussed the situation. We both felt that we could not bear her being taken by the police. We had lost her once and we couldn't do it again. The thought of her alone in kennels, us not knowing what was happening to her, her thinking we had abandoned her, just broke our hearts. The threat of a possible jail sentence taking me from my family, stopping me being able to provide for them, be there for them. Fines, criminal records. We are normal people with a pet dog but the way we understood it we didn't have any choice.

We decided to put Cassie to sleep on our terms with the people who loved her. On Friday 9th February 2007 i took my much-loved Cassie to the vets and we let her go to sleep without knowing any more fear. Cassie died in my arms…. the same arms that cuddled her on my chest when she was a baby, the same arms that held her when we were reunited, the same arms that hugged her when she crept up to give out her kisses. . The tears rolled down every ones faces from the vet, nurse, my wife and myself.

Cassie was gone."






The Unknown Dogs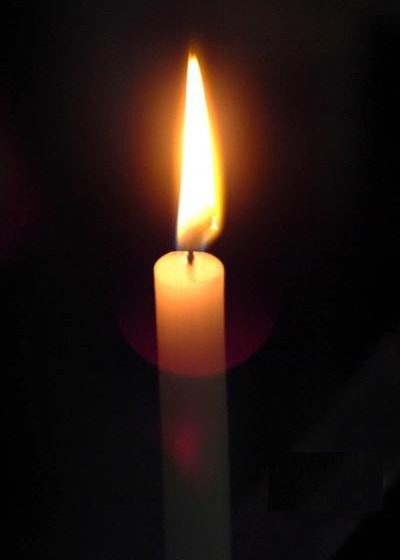 In 2008 two stray dogs were destroyed as 'type' by the London Borough of Merton. Information obtained by DDA Watch under the Freedom of Information Act.





Ice




Ice was found stray in Bridgend, Mid Glamorgan on 1st March 2009. A kennel worker said of him "I've never met such a good and loving dog." Despite his unfamiliar and stressful environment Ice showed no aggression to either humans or other dogs. Ice offered nothing but kisses and a wagging tail. In return, by legal necessity, he was injected with a lethal overdose of anesthetic.

Ice was destroyed on 8th March 2009




The Unknown Dogs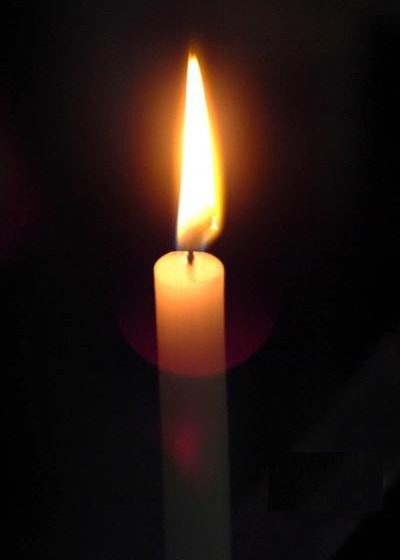 In 2007 a puppy was so psychologically traumatised by the experience of being seized and held by Merseyside police that the owners were obliged to destroy him after his return. An adult dog, with no previous history of aggression, was so traumatised that he could not be safely returned.





Maisie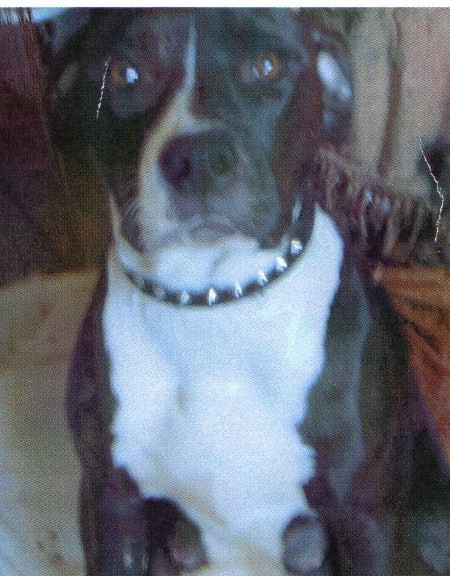 Maisie was young dog of stable and friendly temperament. No complaints were made against her nor had she ever shown aggression.

In March 2008 Maisie had a litter of puppies and, during a veterinary check-up when the pups were six weeks, Maisie's owner was told of the vet's opinion that Maisie was of 'type'. When the police were contacted by the concerned owner they photographed the dogs and a 'dog identification' officer told her that the puppies would certainly be killed and probably Maisie as well. Later the same expert described Maisie, who had never shown any aggression, as a "time-bomb" and left Maisie's owner in the position of facing prosecution while her dogs were seized and killed by strangers or the option of taking the dogs to the vet for euthanisia herself.

Maisie died in April 2008, three days after her pups.






The Unknown Dogs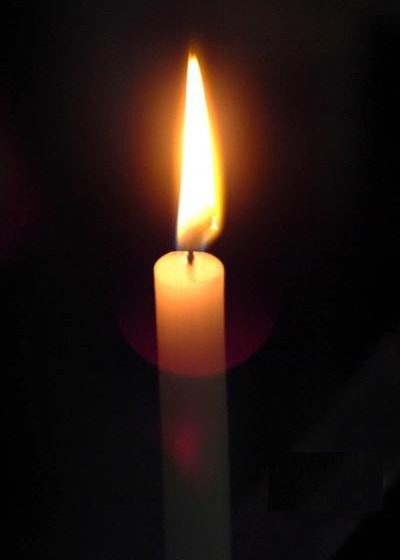 In the five months between 28-02-09 and 31-07-09 a total of ten puppies and one adult dog died while incarcerated by the Metropolitan Police. One puppy died as a result of being crushed to death by its mother at night. A further 8 puppies from two separate litters, died as a result of Parvo virus, while one adult dog and yet another puppy die due to "unknown cause".



Care has been taken to ensure that our information is correct. The information and advice given by DDA Watch is for general purposes and is intended for guidance only, it does not constitute legal advice. The information and opinions expressed should not be relied on or used as a substitute for legal advice, if you require details concerning your rights, legal advice or find yourself affected by legislation it is recommended that you seek professional legal advice. 
Information given is for England and Wales only. Legislation in Scotland and N.Ireland may differ.
.