2018:
London is taking part in the Global Anti-BSL Rallies and a peaceful protest is being held at Westminster on Saturday 21st July. Find out more...
2015:
July & August:
Global Anti-BSL Protests: This year dog owners, campaigners and the public will once again unite in global protests against Breed Specific Law (BSL) during July and August 2015.
Peaceful protests are taking place in the UK and around the world to send a strong message to our politicians and raise awareness to the fact that BSL is a dismal failure which does not and is not working.
Some of the event pages can be found online on FB here:
London-Westminster 'I Am Lennox' Rally https://www.facebook.com/events/365360856922623/
Merseyside https://www.facebook.com/groups/534246283371629/?fref=ts
Wales https://www.facebook.com/groups/243198055801602/
Belfast https://www.facebook.com/events/154981098023865/
Australia https://www.facebook.com/events/871650832908858/
Canada https://www.facebook.com/events/784309064969206/
2014:
September:
UKRCB Symposium
-  The UK Registry of Canine Behaviourists 22nd Annual Symposium takes place on Sunday 28th September in Coventry and DDA Watch has been invited to attend. 
The event 'What Dog Owners Need To Know' with Anne McBride and Robert Alleyne, will include discussion on behavioural issues in the home, countryside and public spaces, as well as welfare and dangerous dogs legislation.
DDA Watch will have an information stand – if you are attending ~ come by and say hello :)
WHAM Fun Dog Show - Sunday 28th September at Hylands Park, Chelmsford, Essex. A great day out for all!
Woofstock UK - 13th September, Dorset. A festival by dogs for dogs. DDA Watch will have an information stall-come and visit us!
Large Breed Dog Rescue Fun Day - Sunday 7th September at Broomfield Farm, Gillingham, Kent ME7 3QL starts at 11am. DDA Watch have a stall at the event-come and say hello!
August:
Family Fun Day - at West Thurrock Memorial Ground, off London Road, West Thurrock, Essex on Saturday 30th August between 11am - 3pm. DDA Watch will have an information stand.
Hope Rescue Barking Mad Fun Day - takes place at Llancaiach Fawr Manor, Nelson, Caerphilly, Wales CF46 6ER on Bank Holiday Monday 26th of August 2014.  DDA Watch have been invited to attend and will have an information stand – come and say hello.
Nicole and Flumps 5km Fun Run - 24th August 11am at Wythenshawe Park, Cheshire M22 8LP. Nicole and rescue dog Flump are raising funds for DDA Watch. There is an event page on Facebook here.
July:
Anti-BSL Peaceful Protests - are taking place on the 19th July, events are organised for London, Liverpool, south Wales, Belfast, Glasgow and Yorkshire. Further details can be found here
Dogs Trust Salisbury's Festival of Fidos - a Special Fun Day and Fantastic Dog Show taking place on Saturday 5th (prebook only) and Sunday 6th July 2014 11am-4pm at the Dogs Trust Re-homing Centre, Salisbury, 45 Amesbury Road, Newton Tony, Wiltshire SP4 0HW. DDA Watch will have an information stand at this event on the Sunday – come and say hello.
DogLaw Seminars - What every responsible owner needs to know; these seminars are aimed towards pet owners and clubs, they are held at different locations across the country throughout July and into November.
June:
Charity Walk - The Herefordshire Staffordshire Bull Terrier Club are holding their 5th charity walk on the 29th June in aid of the Hereford and Worcester Animal Rescue and DDA Watch. Enjoy a great day out, promoting responsible dog ownership and raising positive bull breed awareness.
All About Dogs - One of the largest dog events in the UK, includes dog show, k9 agility, demonstrations, professional advice, doggie shopping, information and trade stands, 28th and 29th June at the Lincoln Showground LN2 2NA 10am-5pm.
Discover the Raw Diet - A natural canine nutrition half-day seminar with holistic vet Nick Thompson, 14th June in Fulham, London. Organised by the Alpha Pack who have kindly offered to make a donation to DDA Watch from the event.
May:
National Dog Bite Prevention & Behaviour Conference - On 31st May and 1st June. Great speakers providing the latest information on understanding aggression, treatment solutions, bite investigation, dog bite law, education and empowering children to be K-9 Safe and Smart. One of the DDA Watch team is attending (self-funded) maybe we will meet you there!
South Wales Dog & Family Fun Day - Bank Holiday Monday 26th May.

DDA Watch will have an information stand at this event-come and say hello!
There is fantastic line-up of feature displays and demonstrations including a Fun Dog Show for all dogs including Best Exempted Dog Class to be judged by DDA Watch.
Doglaw for professionals - May seminars from Cooper & Co. topics include recent changes to dog law.
April:
Sponsored Walk - A big thank you to the Herefordshire Staffordshire Bull Terrier Club who have just held their Easter charity walk. Apparently it was a damp start but the big staffy smiles shone through! In total £75 was raised, half was donated to their local rescue, HWAR, and the other half has been donated to us at DDA Watch. As always we really appreciate the kindness shown by the organisers and participants.
February:
Sponsored 24hr stay in a kennel - to raise much needed funds for DDA Watch, New Hope Animal Rescue and the Deaf Dog Network. On 15th - 16th February 2014. Thank you Lisanne, stay warm xx Thank you to everyone for their support!
Nathan's K9 Fundraiser - An amazing sponsored bike ride is being held this month, a 350 mile journey from Burwarton,Shropshire to Kings Lynn,Norfolk AND BACK by pushbike to raise money for DDA Watch, begins on the 17th Feb.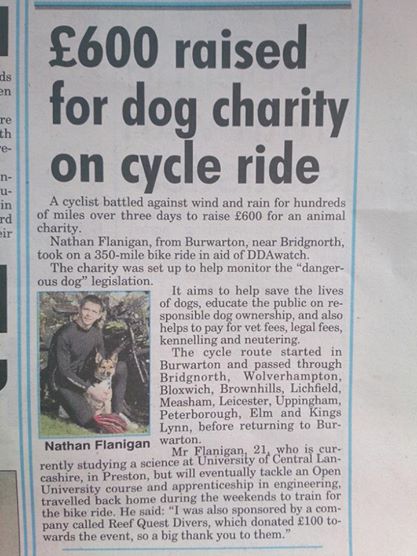 Rock for Rescue - 22nd February at the Shepherds Bush Empire, London. Some of our volunteers attended this awesome event where Hawkwind played their legendary album 'The Space Ritual' in aid of four animal charities, Wetnose Animal Aid, Doris Banham Dog Rescue, Animals Asia Foundation and Team Badger. TV presenter Matthew Wright was compere for the evening and actors Peter Egan and Lorraine Chase gave moving speeches for the charities involved. Our volunteer Maria Daines opened the event with her band and then introduced a film by Doris Banham Dog Rescue, which showed their work helping to save pound dogs. DDA Watch was able to include two thousand leaflets in the goody bags which were given to rock fans attending the event to raise awareness of BSL and the work of DDA Watch including our helpline service contact numbers. It was a great night for people and animals and everyone enjoyed it immensely.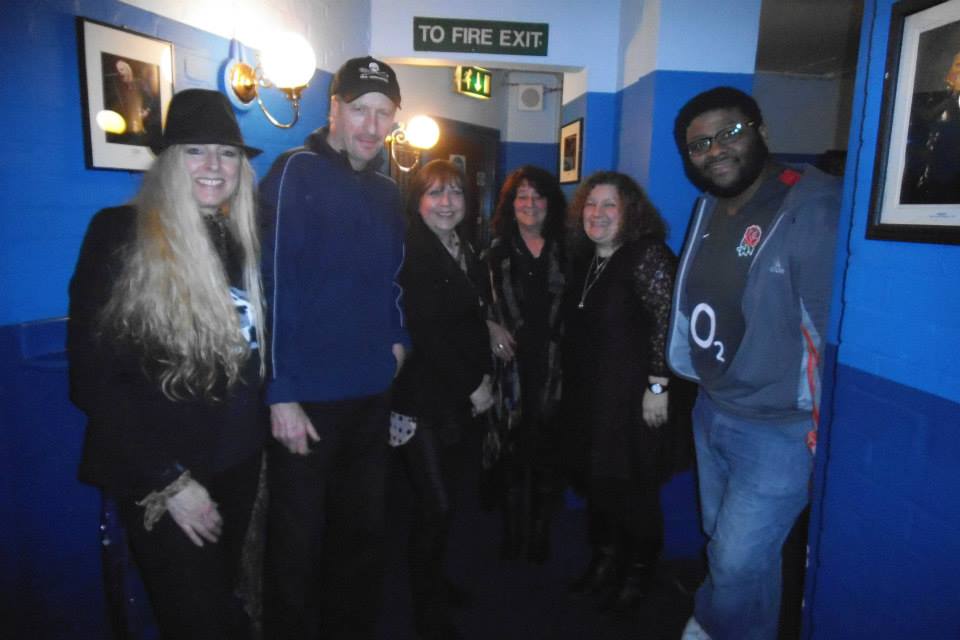 First Aid Course - for dog owners organised by the Alpha Pack. London SW6, Monday 3rd Feb 7-9pm, helping to raise funds for DDA Watch

Care has been taken to ensure that our information is correct. The information and advice given by DDA Watch is for general purposes and is intended for guidance only, it does not constitute legal advice. The information and opinions expressed should not be relied on or used as a substitute for legal advice, if you require details concerning your rights, legal advice or find yourself affected by legislation it is recommended that you seek professional legal advice. 
Information given is for England and Wales only. Legislation in Scotland and N.Ireland may differ.