'A Puppy's Life'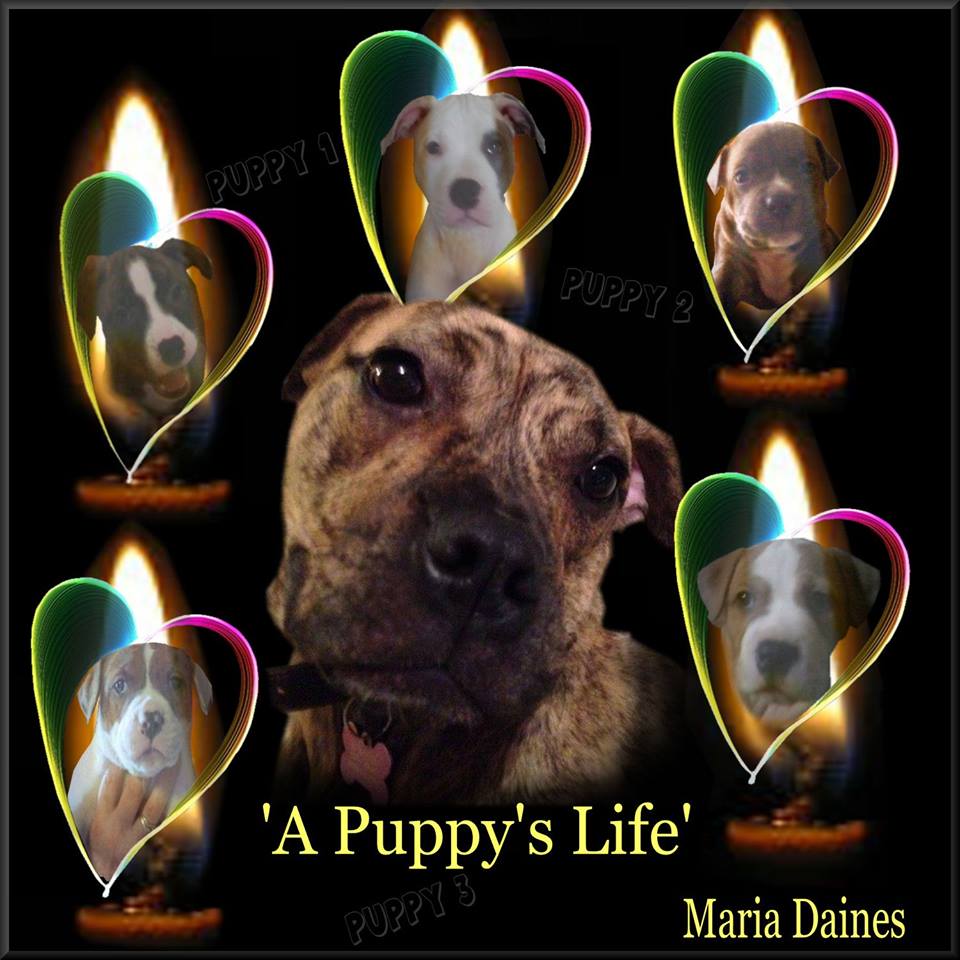 Sometimes behind the scenes at DDA Watch can be heartbreaking. I asked my colleagues for their thoughts on the tragic situations we hear about that nobody should accept or have to grieve over and if BSL was repealed we wouldn't have to and families would not have to live in fear of being parted from their much loved companion pets, the innocent dogs and puppies whose lives are put at risk because of the way they look.
We decided a song for the puppies killed under this cruel law is needed to raise awareness because the public is largely unaware of the plight of puppies which are also seized and held; some will lose their lives as they are condemned to death under BSL.
A sweet pup called Kacey, only a few months old, came into the care of DDA Watch, released by the police as one of the lucky ones found not to be of 'type'. Kacey's brothers and sisters were not so lucky and were all tragically killed as 'type' yet they were happy, fun loving pups that deserved to have the same chance of a happy life as Kacey has gone on to have.
This is what BSL does; it kills the innocent whilst achieving nothing positive towards public safety. We, as a society, must decide if this is where we want our taxes spent, is this a law we wish to accept and condone?
Is this what our government considers to be humane and responsible behaviour towards man's best friend in 2014?
We must examine our collective conscience for the plight of thousands of innocent dogs and puppies killed since 1991 under section 1, Dangerous Dogs Act, otherwise known as Breed Specific Legislation.
For every four legged friend whose life has been cut short by BSL, we remember you and you will remain in our thoughts, sadly joined together by the same tragic fate.
This is our tribute to the forever young and beautiful lost souls, safe in our hearts always. Rest in peace little ones, you were loved xx
You can download this song for free or if you are able to, please consider making a donation to DDA Watch so that we can continue helping dogs and puppies affected by a cruel law that condemns, restricts and ends their lives for looking a certain way.
Our grateful thanks to Janice Tyrrell for creating the art work for this song.


'A Puppy's Life'
We were warm and safe, a world we couldn't wait to see
Soon our lives would change and we were named, puppies, one, two, three
You came and seized us all and locked us up in these four walls
We cried and cried for days, we are the prisoners of the law.

How can you sleep at night, you take a puppy's life
Because you write us off as 'type'
What kind of human hell invented BSL
Our hearts are broken in this cell...

I'm taken on my own into a room that smells so strange
They stroke my trembling face and tell me I am not to blame
And then they hold my paw and tell me this won't hurt
I rest my sleepy head and feel the tears upon my fur.

What did we do so wrong, we're only little ones
We want to run and have some fun
Why can't you let us go, we want a happy home
You won't be safer when we're gone...

You killed us one by one for we were born to die
What kind of world is this, when you can take a puppy's life?
There is no grave for us, no flowers growing in our names
We became the dust when you burned us in the flames.

How can you sleep at night, you take a puppy's life
Because you write us off as 'type'
What kind of human hell invented BSL
Our hearts are broken in this cell...

© Maria Daines/Paul Killington
All Rights Reserved
(mcps) ASCAP
7.6.14