Dangerous Dogs Act Inquiry Launched:
Latest News: October 2018
EFRA Inquiry Report Published: The EFRA Committee report calls for a full-scale review of current dog control legislation and policy to better protect the public.
DDA Watch Response to EFRA Report: DDA Watch welcomes the EFRA detailed report and we support the recommendations made to government.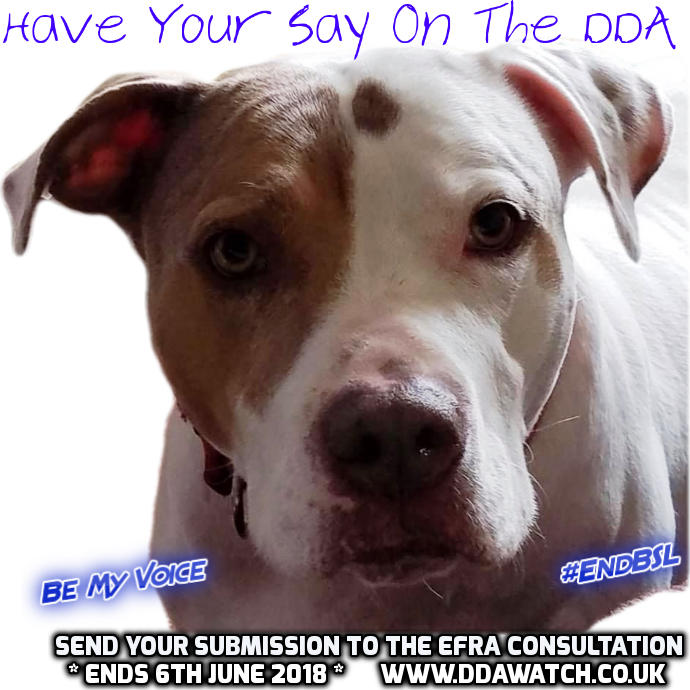 The Environment, Food and Rural Affairs Committee launched an inquiry(11/5/18) into the legislation on dangerous dogs.
DDA Watch will be providing written evidence and we urge you to have your say and support a repeal of breed specific legislation - you have until the 6th June to respond - details are below.
There has been substantial debate about the effectiveness of this legislation and the impacts on dog welfare, Neil Parish MP, Chair of EFRA Committee, said:
"The Government is responsible for protecting the public from dangerous animals, so it is essential that laws evolve alongside our understanding of what works.
"The 1991 Dangerous Dogs Act banned four specific types of dog, but since then attacks have continued and 21 people have been killed by non-banned types.
 "My Committee will investigate whether the Government's current approach is having the desired effect, and whether any changes are needed to ensure that the public is properly protected and that animal welfare concerns are properly addressed".  
Terms of reference
In particular, the committee seeks written submissions that address the following issues:
How effective is the Government's current approach to protecting the public from dangerous dog attacks?
What changes, if any, should be made to the current approach and legislation?
How can local authorities and police forces be best supported in reducing the number of dangerous dog-related incidents?
What lessons could the UK learn from other countries dealing with similar issues?
Deadline for submissions
Written evidence should be submitted through the Committee's web portal by midnight on Wednesday 6 June.
It is recommended that all submitters familiarise themselves with the Guidance on giving evidence to a Select Committee of the House of Commons which outlines particulars of word count, format, document size, and content restrictions. 
Further information
Committee membership: Neil Parish (Chair) (Conservative), Alan Brown (Scottish National Party), Paul Flynn (Labour), John Grogan (Labour), Dr Caroline Johnson (Conservative), Sandy Martin (Labour), Kerry McCarthy (Labour), Mrs Sheryll Murray (Conservative), David Simpson (Democratic Unionist Party), Angela Smith (Labour), and Julian Sturdy (Conservative).
Specific Committee Information: Tel: 020 7219 5528; email: efracom@parliament.uk News and updates from the Committee's webpages and Twitter, @CommonsEFRA
Inquiry-related questions:
Daniel Schlappa, Second Clerk, EFRA Committee on 020 7219 6194, or by email to schlappad@parliament.uk

Care has been taken to ensure that our information is correct. The information and advice given by DDA Watch is for general purposes and is intended for guidance only, it does not constitute legal advice. The information and opinions expressed should not be relied on or used as a substitute for legal advice, if you require details concerning your rights, legal advice or find yourself affected by legislation it is recommended that you seek professional legal advice. 
Information given is for England and Wales only. Legislation in Scotland and N.Ireland may differ.